---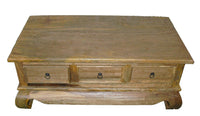 Three drawer solid wood Coffee table with A4 size draws.
If your not interested in the same dark mango offered by so many companies on the web, here is the place to brighten up your living room with a light mango wood coffee table which is not from India.

Made from light mango wood, not easily available in the UK
This design incorporates opium style legs, which has become popular through out south east Asia and beyond.
Mango wood is only used once the tree no longer produces sustainable levels of fruit, so the wood is merely a by product of the tree, so is eco friendly as opposed to being harvested purely for its wood only, unlike Oak or pine.
Now you can have a solid wood piece of mango furniture, which will last a lifetime, without having to feel guilty about its eco credentials.