---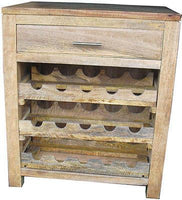 Solid Mango wood Furniture Wine Rack
Part of our light mango wood range from Indonesia, rather than the dark mango found on other sites

Modern design but with a County feel creating by the use of Mango wood in its natural light colour
This is part of our range of Mango product which include Mirrors, TV stands and Coffee tables.
Mango wood is only used once the tree no longer produces sustainable levels of fruit, so the wood is merely a by product of the tree, so is eco friendly as opposed to being harvested purely for its wood only, unlike Oak or pine.
Now you can have a solid wood piece of furniture, which will last a lifetime, without having to feel guilty about its eco credentials.
Garden furniture, rattan chair, rattan table, rattan storage rattan conservatory furniture, rattan drawers, rattan chest, dinning chair, garden furniture set, furniture,. Conservatory patio & barbecue, home and garden, home décor, storage solutions, garden & plants
TV stand, tv unit, tv cabinet, coffee table, wooden coffee table, mango furniture, magazine rack, magazine holder.
French shabby chic, shabby chic mirror, shabby chic chair, shabby chic furniture, shabby chic
Bistro table, bistro chair, bistro set, bistro table and chair, bistro table & chair, bistro chair and table.
Solid wood furniture, mahogany furniture, solid mango wood, mango wood furniture